Duke State Relations works to advance the priorities of Duke with state policymakers and opinion leaders in order to achieve broad engagement in North Carolina and the region. Our office is responsible for representing Duke University, Duke Health and Duke LifePoint Healthcare issues and interests with government officials and legislators in Raleigh and throughout the state. Duke State Relations works closely with faculty and staff to advance Duke's legislative and administrative interests, to connect Duke's expertise to policymakers in state government, and to foster relationships with North Carolina officials on policies related to higher education, health care, employment, public safety and other issues that affect Duke's stakeholders.
Staff
Associate Vice President
Mr. Heron has been with Duke since 2014 serving in a variety of capacities in government relations and as Duke's registered lobbyist in North Carolina. He currently leads Duke State Relations which is responsible for representing the legislative, regulatory and policy interests of Duke University, Duke Health and Duke LifePoint to elected and appointed officials throughout North Carolina.
Prior to joining Duke, he worked as a partner and an associate in a government relations practice at a large multistate law firm in Raleigh, NC representing clients on a wide variety of matters, including healthcare and higher education. He also served as the director of government affairs and legislative counsel for the North Carolina Bar Association, and prior to that spent several years lobbying in Washington, DC for a large international law firm.
Mr. Heron previously served as the President of the North Carolina Lobbyists Association and is the Chair of the Durham Chamber Public Policy Committee. A graduate of James Madison University, Pennsylvania State University's Dickinson School of Law and the Judge Advocate General's Legal Center and School, Mr. Heron is a licensed attorney who achieved the rank of Captain in the US Army Reserves Judge Advocate General Corps. Mr. Heron is also a graduate of Leadership North Carolina Class XXV.
Communications and Outreach Coordinator
Ms. Stanley joined Duke State Relations as the Communications and Outreach Coordinator in July 2019. Prior to joining Duke, she worked at the North Carolina General Assembly for House Appropriations Chairman, Representative Dean Arp. Before working at the General Assembly, Ms. Stanley participated in a year-long public policy fellowship program at the UNC System under President Margaret Spellings, former U.S. Secretary of Education.
Ms. Stanley is a proud alumna of East Carolina University, where she was a member of the Honors College and graduated with a major in Political Science and a minor in Communication Studies. During her time at East Carolina, she found her interest in legislative affairs through interning for Senator Thom Tillis and Representative Dean Arp.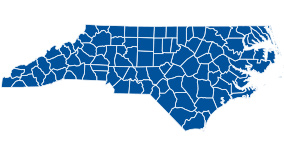 Duke in Your District
Explore Duke's impact in each of the 100 counties of North Carolina. Find information on Duke alumni, employees, locations and recent news highlighting engagement in the local community.